A Sampling of Prior Recipients
---
Natasha Trethewey
1966–
Honorary Degree: Litt.D.
Conferred: May 8, 2017
Biography: For 15 years, until spring 2017, Natasha Trethewey served with distinction on the Emory faculty, becoming the Robert W. Woodruff Professor of English and Creative Writing in 2012. In that same year, Trethewey was named as both the state Poet Laureate of Mississippi and the 19th US Poet Laureate by the Library of Congress. In 2013, she was appointed for a second term, during which she traveled across the country meeting with the public to seek out the many ways poetry lives in American communities and reported on her discoveries for the PBS News Hour Poetry Series. She is the author of four collections of poetry, Domestic Work (2000), Bellocq's Ophelia (2002), Native Guard (2006)—for which she was awarded the 2007 Pulitzer Prize—and Thrall (2012). In 2020, she published Memorial Drive: A Daughter's Memoir.
Why she earned an Emory honorary degree: Trethewey is a worthy successor to other writers who received honorary Emory degrees, including Joel Chandler Harris in 1902 as well as Eudora Welty (1982), Ursula K. LeGuinn (1986), Athol Fugard (1993), Wole Soyinka (1996), Alfred Uhry (2002), Seamus Heaney (2003), Melissa Fay Greene (2010), Rita Dove (2013), and Salman Rushdie (2015). The guidelines of the Honorary Degree Committee note that only in "extraordinary circumstances" will it consider "persons who have spent the greatest part of their careers as members of the Emory faculty or administration." Still, the university occasionally makes exceptions, as in conferring honorary degrees on more-recent Emory presidents Sanford Atwood (1978) and James Laney (1994), as well as Emory's first provost, Billy E. Frye (2015). Trethewey is the most recent entrant into that limited field.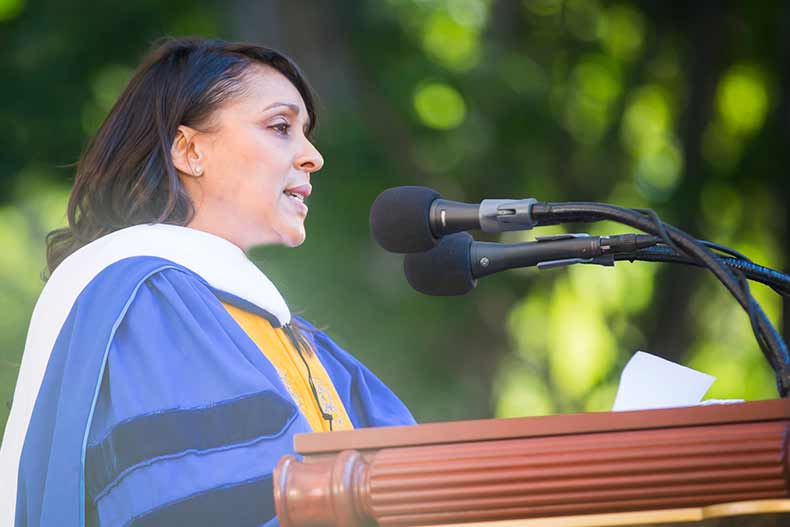 ---
John Lewis
1940–2020
Honorary Degree: LL.D.
Conferred: May 12, 2014
Biography: Lewis was an icon of the civil rights struggle—despite his youth at the time, he was one of the "Big Six" leaders of the movement led by Martin Luther King Jr. Lewis led the Student Nonviolent Coordinating Committee (SNCC), was a Freedom Rider, spoke at the March on Washington in 1963, and led the march that became known as "Bloody Sunday" in 1965 in Selma, Alabama. After leaving SNCC, Lewis remained active in the movement, notably as the director of the Voter Education Project. In 1977 President Jimmy Carter put Lewis in charge of ACTION, the federal agency that included the Peace Corps and Volunteers in Service to America. Lewis entered elective office as an Atlanta city councilman in 1981; from 1986 until the time of his death in 2020, Lewis represented a district that included Atlanta in the U.S. House of Representatives. He was awarded the Presidential Medal of Freedom by President Obama in 2010.
Why he earned an Emory honorary degree: Lewis was a man who, at every turn of his life, has courageously lived by the dictum of "getting in the way"—undoing injustice wherever it might be. When a film of his life was screened at Emory in 2015, then-President James Wagner said, "It is right that this celebration is happening at a university. John Lewis belongs here—actually, he belongs anywhere that people struggle in good faith to explore ways to protect human rights and secure civil liberties." Emory's School of Law established a John Lewis Chair in Civil Rights and Social Justice.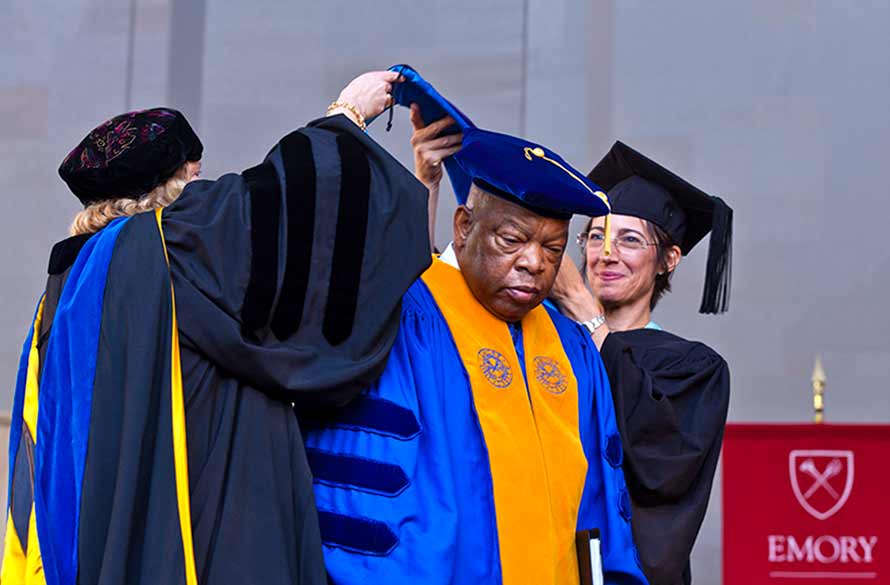 ---
Henry "Hammerin' Hank" Aaron
1934–2021
Honorary Degree: LL.D.
Conferred: May 8, 1995
Biography: Born into humble circumstances in Mobile, Alabama, Aaron ascended the ranks of the Negro Leagues to become a Major League Baseball icon. He spent most of his 23 seasons as an outfielder for the Milwaukee and Atlanta Braves, during which time he set many records, including a career total of 755 home runs.
Why he earned an Emory honorary degree: Atlanta's hometown hero did not just swat baseballs magnificently. He lived with dignity and courage in the face of racist vitriol during his run at Babe Ruth's career home-run record (which Aaron broke in 1974). Throughout his life, Aaron has aimed to break down barriers and make civil rights a reality.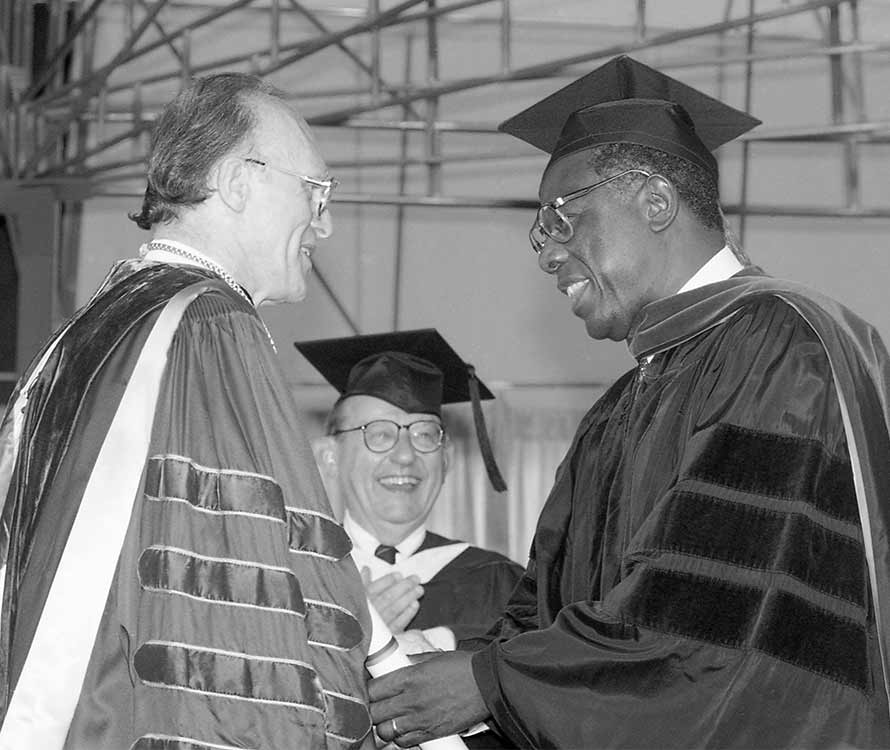 ---
Mikhail Gorbachev
1931–
Honorary Degree: LL.D.
Conferred: May 11, 1992
Biography: In 1985, Gorbachev came to power as general secretary of the Soviet Union. From 1990 to 1991, he served as his country's first president. The two reforms most commonly associated with him are glasnost (openness) and perestroika (greater awareness of economic markets and the end of central planning). He was awarded the Nobel Peace Prize for his leadership role in ending the Cold War and promoting peaceful international relations.
Why he earned an Emory honorary degree: Gorbachev's sweeping changes in the Soviet Union precipitated the end of the Cold War. Emory was pleased to be one of only two US institutions to grant an honorary degree to Gorbachev, whom Time magazine had declared the "man of the decade."
---
Kiyoshi Tanimoto
1909–1986
Honorary Degree: D.D.
Conferred: December 10, 1986 (posthumously)
Biography: Tanimoto converted to Christianity from Buddhism and earned a bachelor of theology degree from Candler School of Theology in 1940. Following his graduation, he first served a Japanese American church in Los Angeles. He returned to Japan just prior to the December 7, 1941 attack on Pearl Harbor to work at a church in Okinawa. After marrying, he and his wife moved to Hiroshima where, on the morning of the bombings, he generously assisted others. He was one of six Hiroshima survivors whose experience and later life are depicted in John Hersey's book Hiroshima.
Why he earned an Emory honorary degree: Tanimoto assisted survivors of the two atomic bombings not only in the immediate aftermath but for the rest of his life. He founded the Moral Adoption Project, an American-funded organization that built orphanages and cared for war orphans. He toured the US in 1950 to raise money for the project as well as for the newly formed Hiroshima Peace Center. In 1955, with the support of American writers Norman Cousins and Pearl S. Buck, Tanimoto organized the Hiroshima Maidens Program, which supported 25 Japanese women who were seriously disfigured by the bombing. With the financial support, they were able to travel to New York's Mount Sinai Hospital to receive multiple reconstructive surgeries.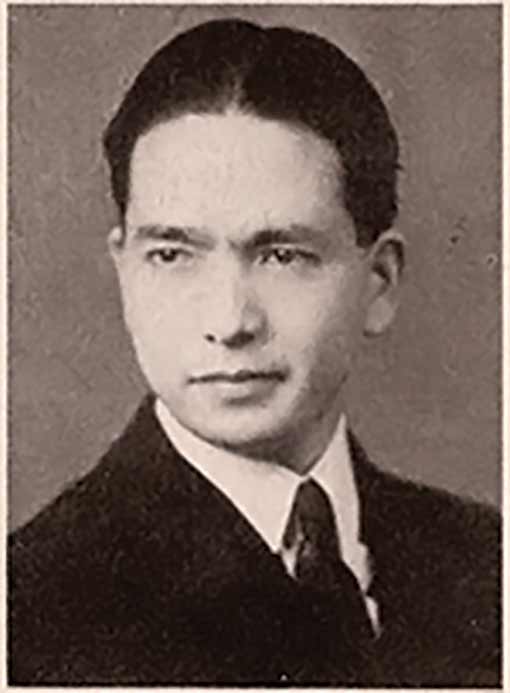 ---
Eudora Welty
1909–2001
Honorary Degree: L.H.D.
Conferred: June 14, 1982
Biography: After a college career that took her to Mississippi State College for Women, the University of Wisconsin–Madison, and Columbia University, Welty returned to her hometown of Jackson, Mississippi, in 1931. She worked in radio and newspapers before becoming a publicity agent for the Works Progress Administration, which required her to travel the back roads of rural Mississippi, taking pictures and writing press releases. Her trips connected her with the country folk who would soon shape her short stories and novels, and also allowed her to cultivate a deep passion for photography. In the course of her career, she earned the Pulitzer Prize for Fiction (The Optimist's Daughter, 1973) and the Presidential Medal of Freedom (1980), and became the first living author to have her works published in the prestigious Library of America series.
Why she earned an Emory honorary degree: She had no need of being an outsize personality herself, instead staying focused throughout her career on creating richly drawn characters. Greg Johnson, a fellow novelist and short story writer once playfully asked, "Do Important Writers live quietly in the same house for more than 70 years, answering the door to literary pilgrims who have the nerve to knock, and sometimes even inviting them in for a chat?" Welty had a ready answer. "As you have seen, I am a writer who came of a sheltered life," she told readers. "A sheltered life can be a daring life as well. For all serious daring starts from within."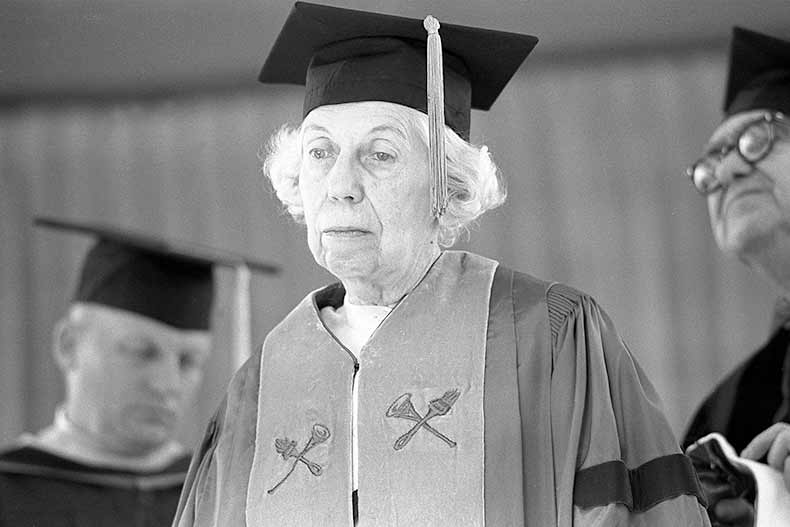 ---
Robert W. Woodruff
1889–1985
Honorary Degree: LL.D.
Conferred: December 6, 1979
Biography: Woodruff had few equals, either as a philanthropist or businessman. He became president of The Coca-Cola Company in 1923 and guided it until his death in 1985, helping to shape the company from a local soft drink business into the world's best-known brand. Through his Trebor Foundation (renamed the Woodruff Foundation following his death), created in 1937, he gave generously to charities both within and outside Georgia, including an anonymous gift that created the Woodruff Arts Center in Atlanta.
Why he earned an Emory honorary degree: Though Woodruff confessed to being an "indifferent student" at Emory, where he attended only a semester, his mark on the university is profound. His first gift to Emory in 1937 established the precursor to the Winship Cancer Institute. In 1979, he and his brother George made a gift of $105 million, which was at the time the largest donation ever made to an educational institution. In his lifetime, Woodruff directed more than $230 million in gifts to Emory, making him one of the most recognized names in university history.